Agustín Mangoré Barrios (1885 - 1944)
Madrigale Gavotte
Agustín Barrios Mangoré also known as Agustín Pío Barrios (but "Nitsuga Mangoré" was his artist name - typed "Agustin" backwards) he had Guarani and Paraguay roots, classical guitarist and composer. He was on of the most relevant and important classical guitar player and composer of the XX. Century.
Agustín Barrios Mangoré was born in de las Misionesban, south part of Paraguay at capital of Misiones 'departamento' (district) in 5th May, 1885. Barrios' mother Martina Ferreira was a teacher in a girl-school, his father Doroteo Barrios Argentinian citizen was a consul in Misiones state. Barrios had seven brothers and sisters altogether and all of them played music. They played as a family band together occasionally. During his childhood, Barrios started to learn a basic knowledge and love for literature and music - these were the two most important thing to his family. Barrios-Mangoré could speak two languages as a mother tongue (Spanish and Guarani) and understand and read three others (German, English and French). When he was a kid, Barrios loved music especially the sound of the classical guitar.
At the age of 13 he was heard and seen by a classical guitarist Gustavo Sosa Escalada then Escalada became his classical guitar teacher from 1898 since Escalada thought Barrios was very gifted. Barrios started to learn guitar playing and composing by Escalada and study the works of the most important contemporary and ancient composers such as Francisco Tárrega, Fernando Sor, Dionisio Aguado, Julián Arcas. His teacher advised him to continue his studies in Asunción in the Colegio Nacional where he got a scholarship and he became one of the youngest university students in Paraguay! His classical guitar teacher was Nicolino Pellegrini. Nevertheless becoming a classical guitarist at the college's music department, Barrios was a well-thought-of by college members as a mathematician, journalist as well as a poet. After finishing the college, Barrios decided to spend his time on writing poems, practising guitar and writing music. He composed more than 300 pieces.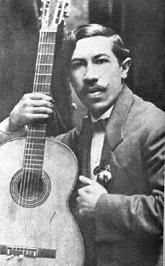 Barrios became very famous because of his extraordinary concerts, both live and on recordings - the first classical guitar playing ever recorded! Couple of years later, his habit was to perform on his gigs wearing traditional Paraguayan dresses being a traditional man (Nitsuga Mangoré). In general his works were written in late-Romantic style, while he lived mainly in the twentieth century. Majority of his pieces were adaptations of or were inspired by South American and Central American folk music. The Bach-inspired La Catedral (1921) is a widespread piece also known as his most popular and impressive work. Andrés Segovia loved this piece, who otherwise did not like Barrios' works that much.
Barrios died in heart attack and was cremated in the Cementerio de Los Ilustres in San Salvador, El Salvador on August 7, 1944.
Barrios-Mangoré is still appriciated in his home-country Paraguay, where he is still been as one of the best musicians of all time. His pieces have been loved by the greatest classical guitar virtuoso John Williams, among others, as one of the greatest in the classical guitar literature. Williams has said of Barrios: "As a guitarist/composer, Barrios is the best of the lot, regardless of ear. His music is better formed, it's more poetic, it's more everything! And it's more of all those things in a timeless way. So I think he's a more significant composer than Sor or Giuliani, and more significant composer - for the guitar - than Villa-Lobos."
Lots os other guitarists have recorded pieces by Barrios-Mangoré, including Sila Godoy, David Russell, Sharon Isbin, Berta Rojas, Abel Carlevaro, Barbosa-lima, Eduardo Fernández, César Amaro, Li Jie, Laurindo Almeida, Antigoni Goni, Iakovos Kolanian, Wulfin Lieske, Angel Romero, Enno Voorhorst and many other guitar players around the world.
List of his most important works
Aconquija
Allegro Sinfónico
Cueca
Danza Paraguaya
Estudio de Concierto
Jha, Che Valle
Julia Florida
La Catedral
London Karape
Madrigal-Gavota
Mazurka Apasionata
Preludio
Sueño de la muñequita
Un sueño en la Floresta
Vals no. 3
Vidalita