Bela Bartok (1881 - 1945)
Composer, pianist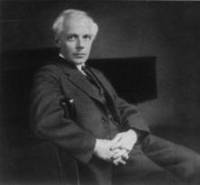 Romanian Dances
Hungarian composer, pianist and collector of folk music. He was born 25th March 1881 in Nagyszentmiklos (Sinnicolau Mare, Románia). His father Bela Bartok was director of a school, his mother Paula Voit was a teacher. Both of them loved music and were amateur musicians as well. It was realised soon when Bartok was a child that he had a special musical gift: at the age of four he could play almost forty songs' melodies on the piano. At the age of five his mother started to teach him to play on the piano and two year later it turned out that he had perfect pitch as well. He was composing when he was nine-ten years old. He did his first concert at Nagyszollos in 1892 where he played his own composition (Streaming of the Danube).
His father died very early then his mother as a widow moved with two kids to Bratislava (Bela and his sister who was 4 year younger). At Bratislava Bartok studied by Laszlo Erkel and Anton Hyrtl. He composed lots of chamber music during this period that were inspired by Schumann's and Brahms' music. He won a place at the Academy of Music in Vienna and in Budapest as well at the same time., He has choosen the Academy in Budapest since he wanted to study by the same teachers then Erno Dohnanyi: Istvan Thoman piano teacher and Hans Koessler composition. He became quite famous as a pianist very quickly because of his virtouso capabilities in Vienna and in Budapest then in Berlin. It was the music of Richard Strauss that he heard at a Budapest concert at the first time Also sprach Zarathustra in 1902 that had the most important inspiration on his early compositions.He finished his studies at the Acedemy in Budapest in 1903.
Ruthenian Kolomeika
He took part on Rubinstein music contest in Paris in 1905 as a composer and a pianist as well but he did get success at all. He met this year Kodaly Zoltan the other most relevant Hungarian composer of that age. Insired by Kodaly, Bartok started to show interest to the folk music. In 1906 he was researching and collecting Hungarian, Slovakian peasant music and songs. He found and collected older musical elements of Hungarian folk music in Transilvania in 1907 and from 1909 Romanian, from 1913 Arabe folk music.
He became a pianist teacher of the Academy of Music in Budapest in 1907 where we worked until 1934. He got married two times: his first wife was Márta Ziegler (got married in 1907), his second wife was Ditta Pásztory (got married 1923). Bartok and Kodaly presented themselves on a composer concert together in 1910. One year later they founded the New Hungarian Music Association (Új Magyar Zenei Egyesületet – UMZE). This idea was failed. He had other negative experiences as well: publishing of Hungarian Folk Songs (1906) Kodaly was a co-editor and the premiere of Bluebeard's Castle's (1911) by Bartok was very unsuccessful so he completely retreated in 1912. This crisis period lasted for four years until 1916. Then in 1917 premiere of his ballet 'The Wooden Prince' had an enourmous success one year later Bluebeards's Castle had a great success too. (He could not live the preimere his third scenic work that is a ballet-pantomime 'The Miraculous Mandarin'.)
Dance from Maramaros
In 1919 during the Hungarian Tanácsköztársaság Bartok, Dohnanáyi and Kodaly they were the members of the Fundation of Music (Zenei Direktórium). From the year of 1920 Bartok was attacked aggressively by the right wing press they said he was unpatriotic because of his Slovakian and Romanian folk music collections. Besides he became more and more known at Western-Europe because of his concerts in the UK, France and Netherlands in 1922 and 1923. He had concerts at first time in the USA in 1927 he played in the Soviet Union in the next years. Then he play in Switzerland in 1929. In spite of his international success his pieces were not played by him in Hungary from 1930 until 1936 and got lots of chauvinist insults from Hungary and Romania as well. He quit his job at the Academy of Music in 1934 and since then he was working for the Hungarian Academy of Sciences as a researcher of folk music. He did his last folk music collections about Turkish music in 1936.
Limping Dance – Sorrow
He was thinking a lot about emigration because of the nacis from 1939. He sent his works to abroad then he moved to New York with his wife in 1940. Bartok had lots of financial problems then he got job at Columbia University as a folk music notator. His health became worse and worse. His last concert was in January of 1943. He suffered in leukemia. He could finish couple of his works such as Concerto and Violin Sonata but he could not finish III, Piano Concerto and Concerto for Viola. He died on 26th September 1945 in New York.
Hungarian Song
Jeering Song
Farewell to Bride
Mosquito Dance
New Year's Greeting
Most Important Works of Bartok
"Kossuth" symphonic poem (1903),
String Quartet No. 1 (1907),
Violin Concerto No. 1 (1907-1908),
Fourteen Bagatelles Op.6 (1908),
For Children (1908-09),
Duke Bluebeard's Castle, opera (1911),
Allegro barbaro (1911),
The Wooden Prince, ballet (1914-16),
Piano Sonatina (1915) ,
Romanian Folk Dances (1915),
Suite for Piano, Op. 14 (1916) ,
String Quartet No. 2 (1915-17),
Four Slovak Folksongs (1917),
Improvisations Op. 20 (1920) ,
Violin Sonata No. 1 (1921),
Violin Sonata No. 2 (1922),
Dance Suite (1923) ,
The Miraculous Mandarin, ballet-pantomime (1918-19, 1923),
Piano Concerto No. 1 (1926),
Piano Sonata (1926),
String Quartet No. 3 (1927),
Rhapsody for Violin and Orchestra No. 1 (1928),
String Quartet No. 4 (1928),
Rhapsody for Violin and Orchestra No. 2 (1929),
Cantata Profana (1930),
Piano Concerto No. 2 (1930-31),
44 Duos, for two violins (1931),
String Quartet No. 5 (1934),
Music for Strings, Percussion and Celesta (1936),
Violin Concerto No. 2 (1937-38),
Contrasts, for clarinet, violin, and piano (1938),
Mikrokosmos (1926, 1932–39),
String Quartet No. 6 (1936),
Divertimento for String Orchestra (1939),
Concerto for Orchestra (1943),
Piano Concerto No. 3 (1945)